Perhaps you saw the recently aired Jimmy Kimmel show where a VMI wheelchair van was given away to a deserving family. VMI vans are the industry leader in wheelchair vans, and a VMI Northstar Chrysler Pacifica wheelchair conversion van was given away.
Now, VMI wheelchair vans are available from the leading wheelchair van dealer in Milwaukee and surrounding areas, Access Mobility Vans. But they are more than just a wheelchair van dealer.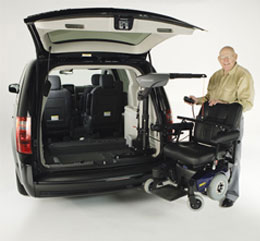 A Wide Range Of Products
Not only does Access Mobility Vans offer the industry leader in wheelchair van conversions with VMI, but they also offer a wide range of products for your vehicle and more. Maybe you need to replace some aspect of your securement system, or you would like to have a power assist seat on either the passenger or driver side of your vehicle. Whatever you may need for your vehicle, Access Mobility Vans is eager and ready to help you make your vehicle exactly what you need.
Offering Driver Evaluation Services
Vehicles offer an extension of our freedoms, allowing us to go where we want when we want. Being in a wheelchair is no different, and being able to drive yourself to appointments, grocery shopping, or anywhere else provides a feeling of normalcy that we all want and deserve. But before you get behind the wheel, it is a good idea to go through a Driver Evaluation to see if there are options that will help you better handle a vehicle.
There are a number of factors that go into a Driver Evaluation, and it covers a lot of different things that you may not expect. In the end, you may receive recommendations for things such as hand controls to make driving easier, wheelchair restraints, transfer seats, and more. The whole process is designed to not only provide safety but freedom as well.
A Full-Service Department As Well
Being an authorized VMI dealer also means that Access Mobility Vans also services what they sell. What does this mean for you? It means that you don't have to go to a different location when things start acting odd in your vehicle. Maybe your lift isn't operating as it should, or your wheelchair ramp has issues. No matter what it is, Access Mobility Vans has the team to help correct it. And just like regular maintenance, you do to your vehicle, the extra equipment on your vehicle can use regular maintenance and inspection as well.
Along with maintenance, they also can do installations of different equipment on your van or vehicle as well. Things like hand controls, docking, and tie-down systems, wheelchair and scooter lifts, and more are all things that the team at Access Mobility Vans is ready to help you with. Stop in to see the showroom of VMI vans, talk with the service team, and learn how you can get the freedom you deserve.