Bruno Stair Lifts in Chicago
Having a stair lift in your home isn't just for those who may be older. Sometimes a temporary injury makes using the stairs difficult or impossible. Perhaps a surgery makes the stairs something that should be avoided. Whatever the situation, Access Elevator and Bruno Stair Lifts can make sure that you have the accessibility in your home that you desire and need.
Bruno Stair Lifts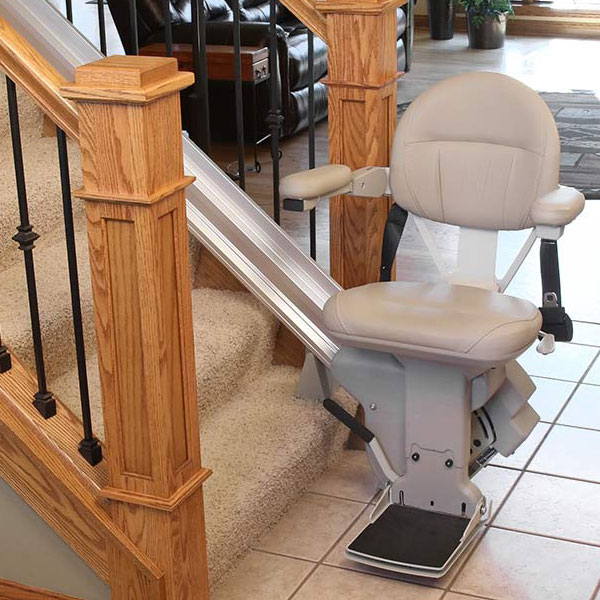 Bruno offers three varieties of stair lifts for your home. Access Elevator can provide you details on which options will work for your home. Don't let the stairs keep you from accessing all parts of your home.
Elan Stair Lift – The Bruno Elan stair lift is the most popular American-made straight stair lift. Because the Elan stair lift has a narrow profile, it allows your stairs to still be used in the traditional manner. Additional features include a folding rail, power swivel seat, and a power folding footrest.
Elite Stair Lift – The Bruno Elite stair lift is a premium stair lift that blends seamlessly into your home's environment. It features a higher weight limit, luxury appearance and materials, and several options including the ability to have a larger seat pad and power folding rails.
Elite Curved Stair Lift – The Bruno Elite Curved stair lift is the top-selling curved stair lift in North America. Options include a top or bottom park position away from the staircase, a mid-park and charge station, and more.
Chicago Stair Lifts from Bruno
Chicago, your accessibility prayers have been answered with Bruno stair lifts and Access Elevator. Contact your Access Elevator professional today to learn more about the options available and to have them come out to review your home and provide details. Whether you are looking to rent a stair lift for a short period of time, or you want to test out a stair lift for a permanent installation, or you are sold on the stair lift and just want to see your options, Access Elevator is ready to help you.
Chicago's 58 million domestic and international visitors in 2018 made it the second most visited city in the nation, as compared with New York City's 65 million visitors in 2018. Landmarks in the city include Millennium Park, Navy Pier, the Magnificent Mile, the Art Institute of Chicago, Museum Campus, the Willis (Sears) Tower, Grant Park, the Museum of Science and Industry, and Lincoln Park Zoo. Chicago has professional sports teams in each of the major professional leagues, including two Major League Baseball teams.