Losing mobility is difficult for both the person affected as well as caregivers. Whether due to aging, accident or illness trying to navigate even one or two steps when you're losing your mobility is often difficult; trying to climb an entire set of stairs can be next to impossible. Making your home more comfortable for family members can offer significant benefits for everyone living in your home. A few small additions can ensure greater independence and increased self-esteem for loved ones while providing assistance with everyday care needs. Stairlifts can have a variety of features appropriate for your individual needs and budget. A stairlift from one of our premium stair lift vendors may just be the thing you need to remain in your home.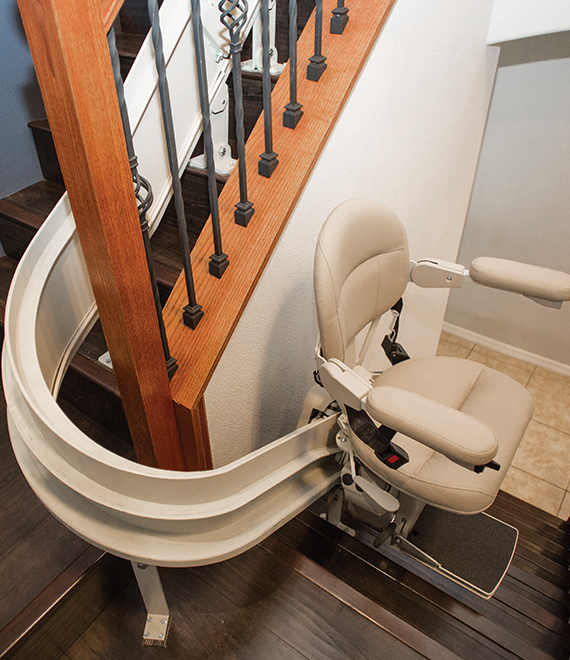 Safety Features In Stair Lifts For The Home
Having the freedom to continue living in one's home as well as navigating floor levels is priceless. Heavy-duty stair lifts incorporate numerous safety features that keep you or your loved ones safe. Initial feelings of losing control are immediately solved by your new stair lift becoming an everyday tool to increase freedom of movement and decrease dependence on caretakers. Some of the safety features include seats that swivel at the top of the staircase to allow easy on/easy off; a retractable seat belt and obstruction sensors; a larger seat to accommodate all types of people; compact design that can fold against the wall allowing for the stairs to still be used; and heavy-duty construction that still offers pleasing aesthetics that will blend with your color and décor.
Why Use Access Elevator For Your Stair Lift
Access Elevator provides you with over 100 years of home accessibility experience and we are a preferred partner with all of our manufacturers. All of our installers are Manufacturer Certified Technicians with years of experience installing chair lifts. We firmly believe in providing home equipment that is the safest and most reliable available. We have a strong passion for the work we do and it shows in our end products. By speaking with one of our accessibility specialists, we can learn about the mobility of the person who would be using the lift and find the right stair lift for their specific needs.