Reposted from milwaukee.gov:
The City of Milwaukee Department of Public Works (DPW) is in the process of purchasing adaptive cycles for the pilot program. Once the bikes have been delivered, they will be modified to work with the Bublr bike share system. The plan is to launch the pilot program by the end of June 2019.
In the meantime, Bublr Bikes and The Ability Center have an exciting opportunity for people interested in trying out an adaptive cycle. Starting May 5, adaptive bikes will be available one Sunday each month for participants to test an adaptive bike and receive a riding lesson. The lesson will include assistance with getting on and off a bike and help with learning how to safely stop and park. See the flyer below for more details.
Space is limited to 25 participants. For more information, please contact Sally Sheperdson (Bublr Bikes) at 414-931-1121 or sally@bublrbikes.org.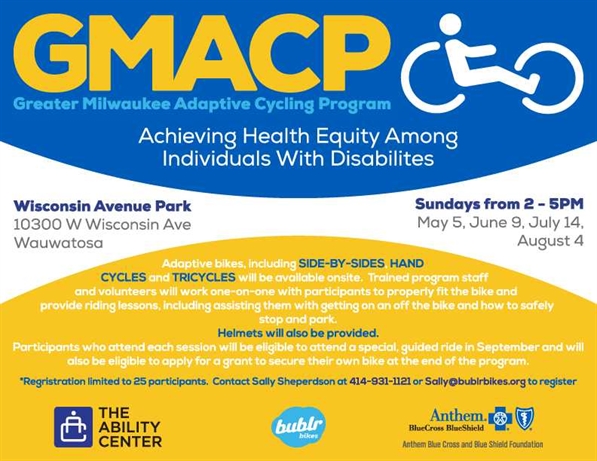 Program Overview
All Milwaukee residents and visitors should have access to safe, healthy, and enjoyable forms of transportation. In 2019, the City of Milwaukee Department of Public Works (DPW) will launch a pilot program to improve access to bicycling and bike share for people of all abilities.
DPW is partnering with Bublr Bikes, Milwaukee's non-profit bike share operator, to add 17 adaptive cycles to the City's bike share system. The pilot program will include a mix of upright tricycles, hand tricycles, and two-person side-by-side tricycles. Each adaptive cycle will be compatible with Bublr bike share stations found across the City. Users will be able to find an available adaptive cycle and check it out just like one of the two-wheeled Bublr bicycles.

DPW is committed to a sustainable, long-term solution for expanding access to bike share for people of all abilities. With this in mind, we're working with community partners and residents to develop the pilot program with the experience for riders in mind. DPW and its partners will evaluate Phase 1 of the pilot and plan a second phase based on community feedback and performance.
Goals
Improve access to bike share by providing a variety of cycles for a wider range of abilities
Evaluate challenges to bicycling and bike share for persons with disabilities
Work toward a long-term, sustainable solution for including adaptive cycles in the bike share system
Program Timeline
Spring 2019: Pilot launch
Summer 2019: Group rides and events. Please check back for more information.
Fall 2019: Pilot Phase 1 wrap-up
Winter 2019-2020: Evaluate Phase 1; Plan Phase 2
DPW will engage with residents and users during the pilot program. We'll also work closely with Bublr and community partners to make adjustments to the program based on public feedback and research from other cities. Check this website for updates, events, or sign up for the City's bike and pedestrian e-notify service to receive emails about this and other bike and pedestrian projects.
Contact bikewalk@milwaukee.gov with questions about this program.