Home Elevators, Dumbwaiters, Stairlifts, Wheelchair Ramps, and Patient Ceiling Lifts in Glenview, Illinois
Access Elevator has been in business since 1990 providing the best stairlifts, dumbwaiters, residential elevators, platform lifts, wheelchair ramps, porch lifts, ceiling lifts, auto door openers, and more to the city of Glenview, Illinois and its community.
Gleview, Illinois is located in Cook County on the North Shore, which is in Chicago and consists of many affluent suburbs including Wilmette, Evanston, Lake Bluff, Lake Forest, Winnetka, Glencoe, Kenilworth, and Highland Park. Unlike these cities, however, Glenview does not border on Lake Michigan. This village has an older neighborhood located within, known as "The Park." It is located just south of the Glen development. The Glen contains the Glen Town Center (a shopping center), the Kohl Children's Museum, two golf courses, a lake, Glenview Park District Park Center, and the Glenview commuter train station. The Park Center is also located here in Glenview, which is one of the largest community centers in Illinois. Wagner Farm is a farm that you can find in Glenview, and is owned by the Glenview Park District.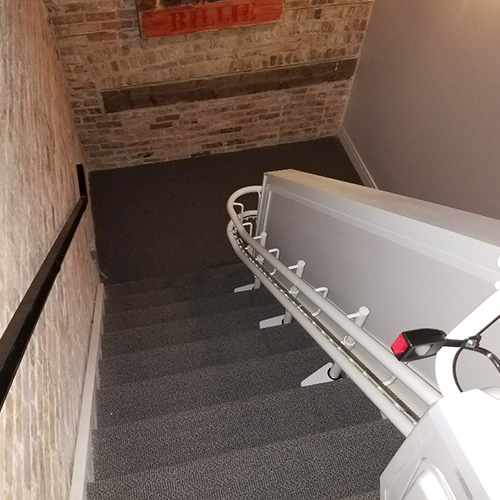 Access Elevator has been helping Glenview and its residents be mobile again. We take into account your personal situation and needs to give you the best product to help you. We offer many products, such as our high quality Bruno stairlifts. We offer specific brands such as Bruno because there are certain brands that we trust to be the best on the market, and Bruno is no different. We have tried many different kinds of lifts over the years, and the ones we sell are the ones that we find to be trustworthy, long-lasting, and all around great products that satisfy our customers.
With purchasing and rental options for most of our products, we are the best dealer in the area of accessibility lifts, ramps, home elevators, and dumbwaiters. Regardless of your injury being permanent or temporary, we can help you. Contact us to check availability of the type of product you need.
Our technicians will handle any and all situations you may have in order to get you mobile again. We will not allow you to risk injury attempting to do an installation yourself. With highly trained, knowledgeable, and certified technicians on our team, Access Elevator can be trusted to get the job done, and get the job done in a flawless fashion. We check every component of your lift, elevator or ramp before we allow you to use it, because we want to ensure your safety. We also handle any kind of repair or maintenance that you will need in the future. With Access Elevator, we keep your products running smoothly for a long time to come. Let the professionals do the work for you!
With our great selection of products, our excellent and experienced staff, and a service that provides you with everything you need and want in an accessibility company, we are ready to help you today. Our porch lifts, residential elevators, wheelchair ramps, dumbwaiters, stairlifts, ceiling lifts, and home modifications are the best in the Illinois area, so give us a call today if you are in Glenview and need our service!
Contact Us Today To Discuss Your Free Mobility Assessment