Stairlifts, Automatic Door Openers, Wheelchair Lifts, Ramps, and Home Elevators in Kankakee, Illinois
Access Elevator has been in the business since 1990 distributing high quality stairlifts, wheelchair lifts, home elevators, wheelchair ramps, dumbwaiters, and more to the Kankakee community.
Kankakee is a city located in Kankakee County in the state of Illinois. It is in the Kankakee-Bourbonnais-Bradley Metropolitan Statistical Area and the Chicago-Naperville-Michigan City, IL-IN-WI Combine Statistical Area. It is home to the Kankakee River, a landmark of Kankakee which runs through the city. The primary airport of the area is the Greater Kankakee Airport, which is in the southern area of the city. Interstate 57, US 45, US 52, Route IL 17, and Route IL 50 all go through the city of Kankakee, making them the best ways to get around in the area.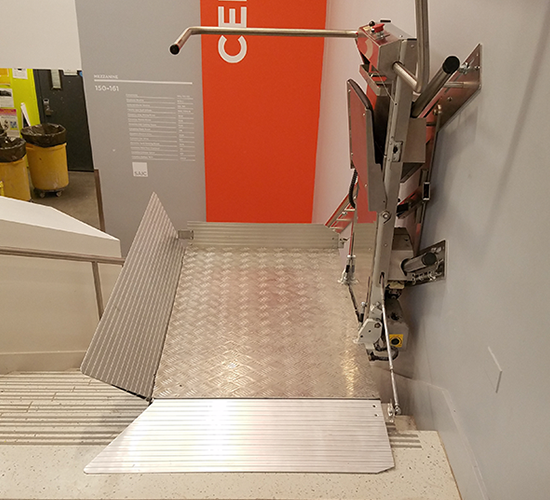 Access Elevator is the leading provider in the Kankakee area of accessibility products including (but not limited to) porch lifts, stairlifts, residential elevators, wheelchair lifts, and wheelchair ramps. We have been providing high quality accessibility products since 1990, and hope to continue to do so for many years to come. We deal in only the best products on the market. Take our stairlifts as an example. We have tried all kinds of stairlifts that are out there for sale over the years, and we have found that Bruno stairlifts are the safest, most trustworthy lifts of their kind. That is why we decided to partner with Bruno and become certified Bruno dealers. This is the kind of quality we strive for in all of our accessibility products, whether it be for stairlifts, residential elevators, ramps, or dumbwaiters.
Most of the products we have for sale are also available as rentals as well. We understand that not all injuries and disabilities are permanent. You may be temporarily wheelchair-bound due to an injury for a few weeks. A platform lift installation would be an ideal product for you, but you would not need one forever. This is why we consider rental options in our business. We want there to be an option for everyone. These products will not destroy your home or mess up the aesthetic with an installation. We can install and uninstall these products without a trace as needed!
The technicians that handle these installations and repairs are the best around. We hire only the smartest and friendliest people in the industry, and we specially train and certify them so that they can do the job in the best way possible. Our technicians are ready for any situation you may have, because we have seen it all over the years. The technicians at access elevator can help you keep your lift, ramp, elevator, dumbwaiter, or other product in top shape for many years to come because they know how to take care of it. Just allow us to handle all the dirty work and you can use your product for a very long time.
Kankakee, Illinois is a city that we serve with pride. We strive for customer satisfaction and safety, and we guarantee both at Access Elevator. Be sure to call us today if you are in need of a high quality lift, elevator, or ramp.
Contact Us Today To Discuss Your Free Mobility Assessment