Best Stair Chairs in Lake Forest, Illinois
Access Elevator sells and services Stair Chairs in and around Lake Forest, IL. We specialize in all brands of Stairlifts such as Bruno, Stannah, Harmar, Sterling, Handicare, Acorn Stairlifts and more. Regardless of what brand you have or would like to have professionally installed in you most important asset, your home. The Stairchair pros at Access elevator can help.
Lake Forest a great place to visit, live, work and play in Illinois
With an area of approximately 17 square miles, Lake Forest is home to 19,375 people according to the 2010 Census. The City of Lake Forest was incorporated as a city under a special charter granted by the Illinois State Legislature in 1861 that permits Lake Forest to be administered efficiently and economically with a minimum number of separate government bodies.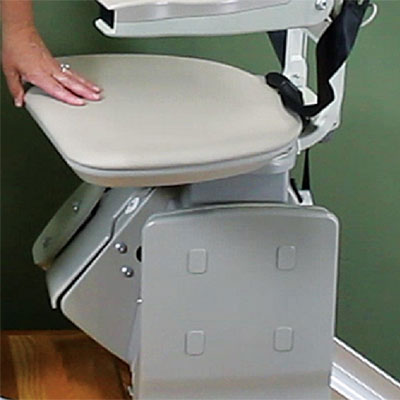 Residents are provided excellent educational opportunities through the public and private elementary and high schools, as well as Lake Forest College and the Lake Forest Graduate School of Management.With its natural beauty every season, Lake Forest is a remarkable community because of the individuals who call it home.
Access Elevator is the Stairlift Specialists Company in Lake Forest
If you or someone in your family has mobility challenges at home, we can help. Whether you have a need for a Straight Stair Chair, Curved Stairlift or an Outdoor Stair climber we have them all ready for you to install quickly and safely.
A Great History in Lake Forest, IL
The City of Lake Forest, incorporated as a City under a charter granted by the Illinois State Legislature in 1861, was primarily founded to support the establishment of church-related educational institutions. Lake Forest's claim to historic distinction however, rests on many factors that are both physical and social. Present-day Lake Forest is physically distinctive not only because of its picturesque street plan, but because of the early date when it was platted. Of the suburban communities in America that were planned in the nineteenth century, according to the picturesque principles worked out for English gardens and American rural cemeteries and parks, Lake Forest is one of the very earliest, coming only five years after the first such town in America, Llewellyn Park, New Jersey, was founded in 1852. The Lake Forest plan, platted in 1857, is notable because its architect, the landscape gardener Almerin Hotchkiss, went on to create such other important picturesque places in the Midwest such as Bellefontaine Cemetery in St. Louis. The general concept reflected in the Hotchkiss plan is of the city in a park, with its streets laid out in an organic manner that considers such natural features as the ravines and lake bluffs, instead of forcing the street plan into a formal gridiron plan.
Access Elevator Offers the Best Mobility Products in Lake Forest
If you have Mobility challenges let us help you with a New Wheelchair van from our Access Mobility caravan company. Please check out our website at: www.accessmyride.com we can help get you to any of Lake Forest's favorite attractions safely and easily. We offer Wheelchair vans and Wheelchairs trucks as well. Come and test drive one today. We will remove barriers and advance your independence, it's our specialty!
Best Wheelchair Ramps in Lake Forest, IL
Need a wheelchair ramp at home? We can help! Access Elevator offers professional sales and installation of Wheelchair ramps in Lake Forest and all surrounding areas. Give us a call today for a FREE no obligation estimate.


Contact Us Today To Discuss Your Free Mobility Assessment