Home Elevators, Ceiling Lifts, Wheelchair Lifts, Ramps, Dumbwaiters, and Stair Lifts in Milwaukee, Wisconsin
Access Elevator has been in the business since 1990 providing high-quality residential elevators, ramps, wheelchair lifts, stair lifts, dumbwaiters, and more to the people of Milwaukee. We have tried almost all the brands on the market, and we find that Bruno stair lifts are the ones we trust the most. We are a certified Bruno dealer, and we offer lifetime warranties for these products because we believe in them.
The city of Milwaukee is the largest city in the state of Wisconsin, as well as the fifth-largest city in the Midwestern United States. It is located in Milwaukee County and found on Lake Michigan's western shore. Milwaukee is known as the place where festivals take place, some of them taking place at Henry Maier Festival Park. The Milwaukee Art Museum is one of the attractions of the city, and it stands out aesthetically due to its "wings". Other attractions include the multiple breweries, the Milwaukee Public Museum, and the Pabst Mansion. The city's school district is the Milwaukee Public Schools district, which is the largest school district in Wisconsin and includes schools such as Washington High School, Rufus King High School, Samuel Morse Middle School, and others.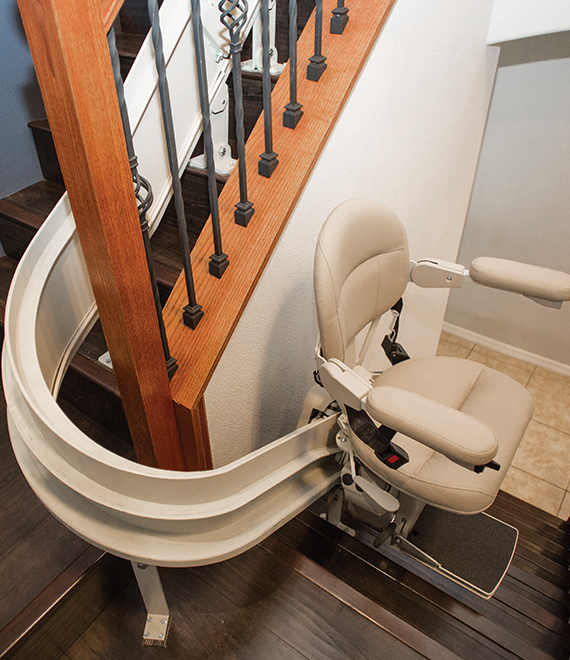 Stair Lifts in Milwaukee, Including Bruno Stair Lifts, and More
The city of Milwaukee is one of the cities we provide our services to. If you are having trouble getting around your home due to a disability, we would be happy to help you with our services. Whether you have a permanent disability and need to buy a home elevator, porch lift, or wheelchair ramp, or whether you have limited mobility for a few weeks or months, we have products to buy and rent for your very needs. You can give us a call today to get any questions answered that you may have, as well as get a free consultation and price estimate. We like to provide a great experience to our customers, and these are the ways we can best tailor your experience for you.
You can visit our showroom to see what our products look like. The quality of our products are not done justice by words or pictures on the internet, so we encourage you to come to our location to come to check them out! We have something for everyone to see. If you need help, we have representatives there to help you learn more.
Technicians that work for Access Elevator are the most knowledgeable around. We hire certified, experienced technicians, to handle the dirty work. When it comes to installing your new product, you don't have to lift a finger, because our workers will make sure that your product is safe and ready to use. They also take care of any repairs or maintenance you will need. These technicians' experience combined amount to well over 100 years, so we are a company you can trust. Our products, despite their high quality, do require repairs and maintenance, but we will have your equipment running in top shape as soon as possible when that happens. Do not be afraid to schedule an appointment with us!
Here at Access Elevator, we are ready to serve the people of Milwaukee today! Give us a call to schedule your consultation.
Contact Us Today To Discuss Your Free Mobility Assessment