Platform lifts are an economical alternative to more expensive mobility options in Appleton, Oshkosh, and surrounding areas. Many platform lifts can be installed in existing stairways and utilize the stair landings as support. Many models also feature the ability to be folded out of the way when not needed. Models come in a variety of colors and finishes to match existing aesthetics.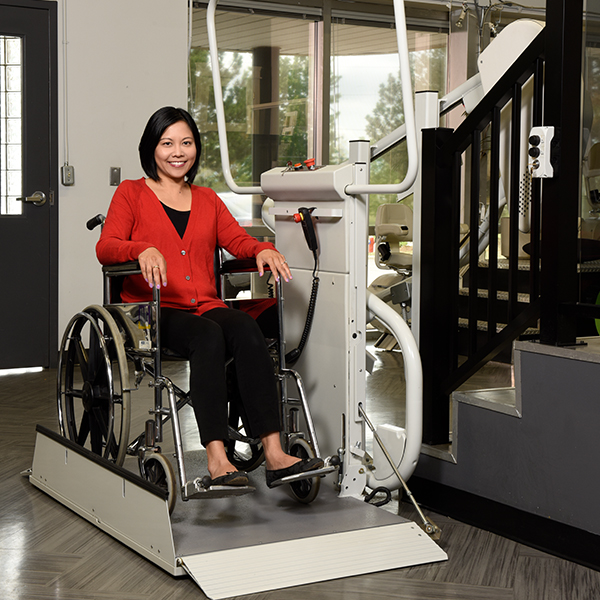 Space and budget are the top two concerns that businesses and homes have when looking to install a platform lift, but they are not the only concerns. It makes sense to speak with an expert, and Access Elevator has the knowledge and experience to make sure you are choosing the right lift for your needs.
Things To Consider When Choosing A Platform Lift
When looking at choosing a platform lift, it is important to consider a number of different aspects so that the platform lift you choose is the right model. For example, will the platform lift be used by just wheelchair users, or are you expecting a variety of mobility-impaired people to be using the lift? Another consideration is how many flights of stairs or feet does the platform lift need to travel. Will the platform lift be used for just moving people, or will it possibly be used to also move inventory or other items.
Will this platform lift be operated entirely indoors, or do you have a need for an outdoor application of a platform lift. Will this platform lift be a permanent addition for the location you'll be at for years to come, or is this a temporary placement where you will be moving in the next year or two. All of these and more are important to understand so that your Access Elevator expert can recommend the best platform lift options for your needs.
Aesthetically Pleasing, Not A Sore Thumb
If you haven't seen the current crop of platform lifts, you'll be surprised to see how modern and good-looking they are. These aren't the industrial lifts you might be thinking of, but rather come in a variety of colors and have finished looks that blend seamlessly with your home's or business's décor. Whether you end up with an enclosed platform lift or an unenclosed variety, it will look like it has always been there. Once installed, you will wonder why you didn't have this done a long time ago, and you'll receive a lot of compliments from people grateful that you cared about them.