Let's say that you have only a few steps or a short flight of stairs at your commercial location and you need to be ADA compliant. Or, you have a private club, church or other non-profit and want to be welcoming to all members. What are your choices in mobility assistance? You could build a ramp. But ramps have to conform to local municipality codes which are generally a 1:12 slope ratio. What if you don't have that type of space availability? Elevators are not an option due to cost and may not be practical for your location.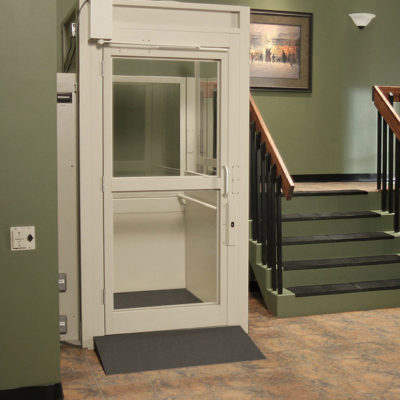 In these applications we would generally recommend looking at a vertical platform lift, or VPL. Platform lifts come in a number of options for every option including for business and home. Some options are even available for external or outdoor use. Vertical platform lifts are self-contained so they don't need an overhead hoist system and don't require a large pit, so they can be installed near stairs, or wherever may be convenient. We currently install throughout Chicagoland, Milwaukee, NW Indiana and the tri-state area. Another option is an inclined platform lift, or IPL, which rides over the top of a staircase. Vertical platform lift come in interior or exterior models.
Platform lifts have capacities ranging from 750 to 1000 lbs. This can be ideal for use where the users may be in a wheelchair, electric power chair, or scooter. For other uses, such as home, light-weight "porch" lifts are available to provide access from your steps to your sidewalk. Heavy-duty platforms can also be used for more than one person or to move inventory.  And, most platform lifts can go up to two stories with three landings. Vertical lifts have similar functions of an elevator but in a smaller footprint. A vertical platform lift is the ideal choice for renovating factory style lofts or historic warehouse conversions where access to a mezzanine level is required.
For churches just looking for access to the stage, or businesses looking to safely move inventory as well as have accessibility for all customers and visitors, platform lifts can be the solution they are looking for. Contact Access Elevator to learn about your options in platform lifts in Milwaukee, Chicagoland, NW Indiana and the Tri-State Area.