Access and mobility are becoming more and more recognized and important. One of the ways that this is being accomplished is with platform lifts, both for the home as well as for the business. But do you know what a platform lift is? Well, if you are in a wheelchair and want to get up onto your porch, how do you do that? If you don't have the space to put in a ramp, a platform lift is the option that you'll have to go with. They are safe, effective, and can be used both indoors and outdoors. Access Elevator in Milwaukee, WI, and Appleton, WI is your number one choice for platform lifts for homes and businesses.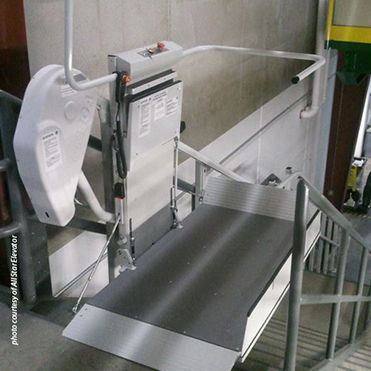 Platform Lift Considerations
As you might imagine, there are a number of different considerations to work through before you settle on a platform lift. Perhaps the number one question to answer is if the platform lift will be installed indoors or outdoors. After that, there are other options that you can look at, including if you want the platform lift to be fully enclosed or open, how high you need the lift to move, how large of a platform you want the platform lift to be (to accommodate motorized scooters and other mobility devices).
Other considerations to keep in mind include if this platform lift is to be a permanent addition for the location you'll be at for years to come, or is this a temporary placement where you will be moving in the next year or two. Will the platform lift be used for just moving people, or will it possibly be used to also move inventory or other items. It also makes a difference if you have curved stairs that the lift will need to navigate around. The trained experts at Access Elevator can help you work through all of these and ensure that you have the right platform lift for your needs.
Platform Lifts Do Not Have to Be Eyesores
If you haven't seen the current crop of platform lifts, you'll be surprised to see how modern and good-looking they are. These aren't the industrial lifts you might be thinking of, but rather come in a variety of colors and have finished looks that blend seamlessly with your home's or business's décor. Whether you end up with an enclosed platform lift or an unenclosed variety, it will look like it has always been there. Give Access Elevator a call today to have their trained staff come and evaluate your home or business for a platform lift.