Chair Lifts, Stair Chairs, Stair Climbers, Stairlifts, Residential Elevators, Wheelchair Ramps, Wheelchair Platform Lifts, and More in Racine Wisconsin and Surrounding Areas
Access Elevator sells and services Stair Chairs in and around Racine Wisconsin. We specialize in all brands of Stairlifts such as Bruno, Stannah, Harmar, Sterling, Handicare, Acorn Stairlifts and more. Regardless of what brand you have or would like to have professionally installed in you most important asset, your home. The Stairchair pros at Access elevator can help.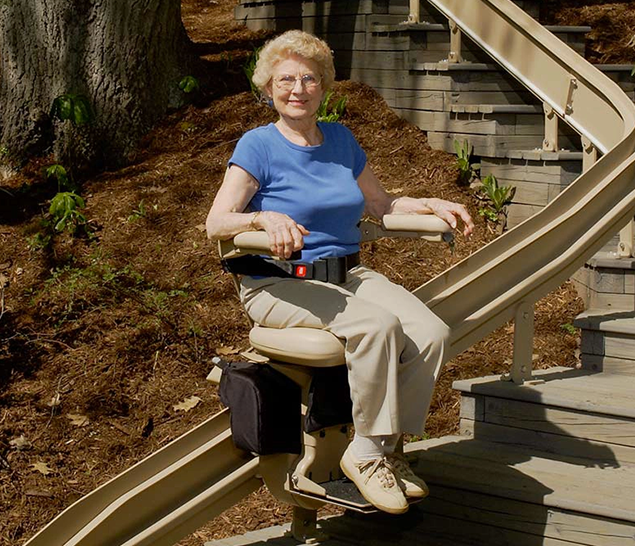 Racine a great place to visit, live, work and play in Wisconsin
Racine is a city in and the county seat of Racine County, Wisconsin, United States. It is located on the shore of Lake Michigan at the mouth of the Root River. Racine is located 22 miles south of Milwaukee. As of the 2013 U.S. census, the city had a population of 78,199, making it the fifth-largest city in Wisconsin. Its median home price of $103,625 makes it one of the most affordable cities in Wisconsin to buy a home. In January 2017, it was rated "the most affordable place to live in the world" by the Demographia International Housing Affordability survey.
Access Elevator is the Stairlift Specialists Company in Racine
If you or someone in your family has mobility challenges at home, we can help. Whether you have a need for a Straight Stair Chair, Curved Stairlift or an Outdoor Stair climber we have them all ready for you to install quickly and safely.
Lots to do in Racine Wisconsin
Racine has several examples of Frank Lloyd Wright's work, including the Johnson Wax Headquarters, Wingspread, the Thomas P. Hardy House and the Keland House. S.C. Johnson offers free tours of its corporate campus, and receives about 9,000 visitors per year. The Research Tower, which is located on the SC Johnson campus, is one of only 2 existing high rise buildings designed by Frank Lloyd Wright. Fortaleza Hall, designed by Norman Foster, houses the "SC Johnson Gallery: Frank Lloyd Wright At Home" and a Frank Lloyd Wright library. The Johnson Wax disc-shaped Golden Rondelle Theater was originally constructed as the Johnson Wax pavilion for the 1964 New York World's Fair and then relocated to Racine.
The Racine Art Museum, designed by the Chicago architecture firm Brininstool + Lynch, is a modern reuse of an existing structure to house RAM's permanent collection of contemporary craft. The building has an exterior façade of translucent acrylic panels that are illuminated at night, making the museum glow in the dark like a Japanese lantern.
The OS House, a private residence designed by the Milwaukee architecture firm Johnsen Schmaling Architects, was recognized in 2011 as one of the top 10 residential projects in the United States by the American Institute of Architects. The LEED Platinum-certified home was also named in 2011 as one of the top 10 green projects in the country by the AIA, and in 2012 as one of 11 national winners in the Small Projects category. The OS House has been featured in the New York Times. The house, an example of 21st century modern architecture, is located on the shore of Lake Michigan in Racine's south side historic district.
Best Mobility Products in Racine On the Lake
If you have Mobility challenges let us help you with a New Wheelchair van from our Access Mobility caravan company. Please check out our website at: www.accessmyride.com we can help get you to any of Racine's favorite attractions safely and easily. We offer Wheelchair vans and Wheelchairs trucks as well. Come and test drive one today. We will remove barriers and advance your independence, it's our specialty!
Best Wheelchair Ramps in Racine Wisconsin
Need a wheelchair ramp at home? We can help! Access Elevator offers professional sales and installation of Wheelchair ramps in Racine and all surrounding areas. Give us a call today for a FREE no obligation estimate.
Contact Us Today To Discuss Your Free Mobility Assessment