Wheelchair Lifts, Ramps, Stair Lifts, Home Elevators, Platform Lifts, and Porch Lifts in Waukesha, WI
For over 25 years, Access Elevator has been proudly serving the community of Waukesha with our Bruno products including wheelchair ramps, wheelchair lifts, stair lifts, dumbwaiters, and home elevators. We have been providing them as well as installing, repairing, and maintaining these products since our start in 1990.
The city of Waukesha, found in Waukesha County, is part of the Milwaukee metropolitan area. Waukesha is located 59 miles east of Madison, and shares borders with multiple cities and towns, including Brookfield, Genesee, New Berlin, Pewaukee, and Delafield. The Fox River runs through the Waukesha. It is home to the Waukesha County Airport and Waukesha Metro Transit, which are the city's public transportation methods. Also the city has a few options for education, such as the University of Wisconsin – Waukesha, Waukesha County Technical College, and Carroll University for colleges, and is served by the School District of Waukesha serves the area for K-12 schools.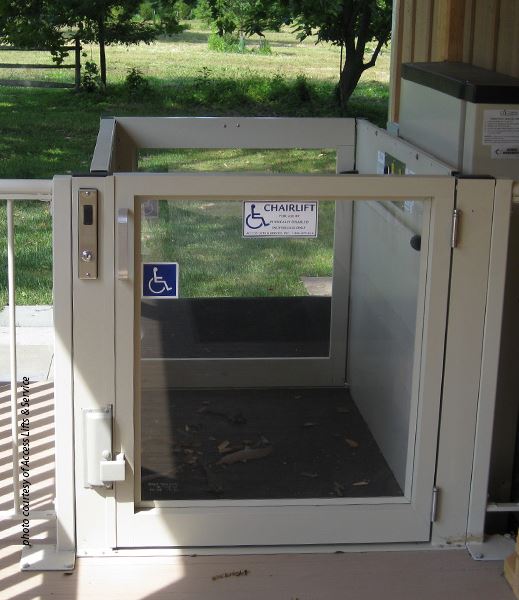 Stair Lifts, Bruno Stair Lifts, and Savaria Stairlifts in Waukesha, Wisconsin
If you are a local to Waukesha and have trouble getting around your home due to a disability, we want to help you. Here at Access Elevator, we offer all sorts of products such as wheelchair lifts, stair lifts, platform lifts, dumbwaiters, wheelchair ramps, home elevators, ceiling lifts, and more to suit your specific needs. To figure out which one you will specifically need, you can give us a call and talk to one of our experts. If needed, you can also schedule a free consultation with one of our representatives. We can give you a price estimate as well once we figure out what product is best for you. Do not be afraid to contact us!
You can also visit our showroom to see what our products look like. We are a certified Bruno dealer, and we offer lifetime warranties on our Bruno products because we believe in them. If you are not convinced, come to our showroom to check them out for yourself! We have representatives there to help you as well, if needed.
Our technicians are certified and specially trained to handle any situation in regards to these lifts or elevators. They know how to work with them, because they have well over 100 years of experience combined. Since 1990, we have been hiring the best technicians for our team, and they have installed countless of residential elevators, lifts, ramps, and dumbwaiters. Safety is our biggest priority, and that's why our technicians check every component of your equipment before they allow you to use it. Don't get just anyone to install your elevator of lift, get one of our certified employees to do the job correctly!
They also handle any repairs or maintenance you will need. Our Bruno products are the best on the market, but in order to stay that way, they need to be maintained. Sometimes they break down and may need a new part. This is why our technicians are trained to handle these situations, too. There is no problem that they cannot solve, so do not wait to schedule a repair with us, we want to get you moving again!
Give us a call today if you are in Waukesha and in need of a home elevator, lift, or ramp. We are ready to serve you.
Contact Us Today To Discuss Your Free Mobility Assessment