When facing issues with mobility impairment and wheelchair access, homeowners have an amazing choice in adaptive lift options. Among the most popular are wheelchair ramps. We highly recommend looking into this option if space is available, as ramps are by far the most affordable. The wheelchair ramp is also the most user-friendly and does not require a power source.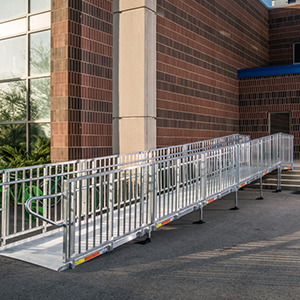 Choices in wheelchair ramps have expanded as more people decide to "age in place" and make adaptive changes to their homes rather than move to a living facility. Wheelchair ramps can be made with wood, steel or aluminum materials. Each has its own advantages and disadvantages. Wood may be a popular option, but it will require a more extensive installation process possibly including concrete footers, permits, and special design adding to cost and installation time. Let's look at the reasons many homeowners decide to go with aluminum:
Less maintenance. Wood will undoubtedly require many different maintenance steps from staining to protecting. You'll also need to replace beams occasionally. Aluminum is a corrosion-resistant material… so snowstorms, ice, rain and more won't cause rusting and rotting like other materials. Also, aluminum ramps are easier to clean. No pressure washing required.
Slip-resistant. Aluminum ramps are engineered with slip resistant tread. Wooden ramps will require the application of some sort of traction that can wear and even peel. This also applies to handrails. While wheelchair uses may not use the handrails, those with joint issues find ramps easier and steadier than stairs and depend on using handrails.
Easy and quick installation. Many ramps come in modular options so homeowners can order exactly what they need. Wooden ramps need to be designed especially for each exact application requiring additional time for design, build and installation. Meanwhile, the installation of an aluminum ramp can be completed in a matter of hours.
Options, options, options. Various options are available, again in modular design, to customize to any user's specific needs. Different coating, weight capacity and more are available. Some can handle 500 lbs or more to facilitate use by scooters, electric wheelchairs, and delivery of supplies.
Call us to find your aluminum ramp for wheelchairs in the size, configuration and other options you need throughout Milwaukee and the tri-state area, including Appleton, Cudahy, Madison, Waukesha, and Wausau areas.