Home Elevators, Stair Lifts, Wheelchair Lifts, Ramps, and Ceiling Lifts in Cudahy, Wisconsin
Access Elevator has been providing, installing, and servicing residential elevators, platform lifts, wheelchair ramps, and more to the Cudahy community since 1990.
Cudahy is located in Milwaukee County in the southeastern part of Wisconsin. It is located just to the east of the General Mitchell International Airport. Cudahy is served by the Cudahy School District, where you can find Cudahy High School, which is the city's local high school. You can explore the three-mile long Lake Michigan coastline, or the multiple parks in the area, such as Sheridan Park or Cudahy Park. Tree City USA has the Warnimont Golf Course, as well as swimming pools, picnic areas, and other areas for activities such as basketball and tennis. With other places such as restaurants and shows, there is something to do for everyone in Cudahy.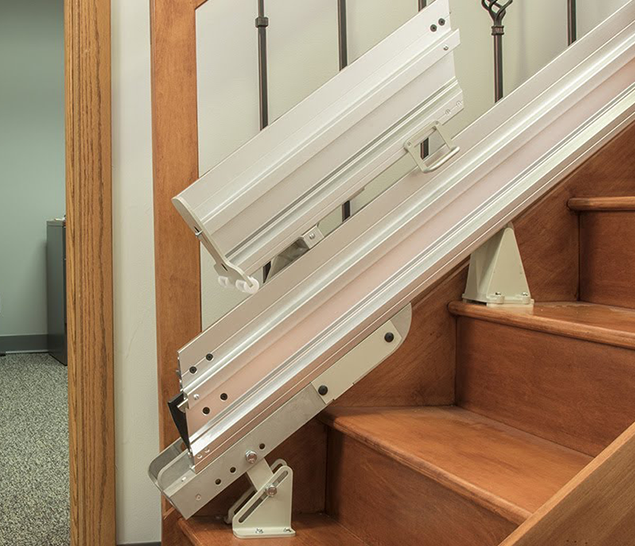 Stair Lifts in Cudahy, WI
Here at Access Elevator, we provide only the highest quality lifts, including vertical lifts, stair lifts, auto lifts, platform lifts, wheelchair ramps, and other products for accessibility purposes, and we provide them with a lifetime warranty. Since we understand how difficult it may be for someone who is disabled to get around, we want to provide them with a great product that allows them to get around their home without trouble. We believe that your home should not be a place for the inconvenience, and that is why we do what we do.
We are a certified company that does all the work for you. We get the necessary permits, and we do the installation, repairs, and maintenance of our high-quality products. After trying all of the products on the market, we have chosen to stick with Bruno products. We believe that Bruno provides the best quality product on the market, and that is why we are a Bruno certified dealer. To take a look at the quality of our products for yourself, come visit our showroom.
You can talk to us if you need more information. If you are in need of a ramp, lift, or home elevator, but not sure what kind is best for you, give us a call. We have friendly staff members ready to answer the phone and give you all the information you need. You can also schedule a free consultation with us. This way, we can provide you with all the information you need for your specific living situation and needs. With the consultation, we can provide you with a more accurate price estimate, as well.
Our technicians are ready to serve you! They are certified to do the job and are the best in the business. We have over 100 years in combined experience within our team, and that experience translates into us providing an excellent service. For over 25 years, our technicians have been installing, maintaining, and repairing these lifts, ramps, and elevators, and we will continue to do so for the Cudahy area for many years to come. If you are in the Tri-State area and are in need of a quality residential elevator, wheelchair ramp, stair lift, porch lift, dumbwaiter, or anything else, we are ready to serve you! Give us a call today.
Contact Us Today To Discuss Your Free Mobility Assessment